That's right! I said it…99 Blog Posts in 99 days…all around helping you grow your business. Why not 100 you ask? Well, I didn't want to get burned out… I wanted to have something left in the tank for the rest of the year… that one last blog post. 🙂
The 99 Challenge!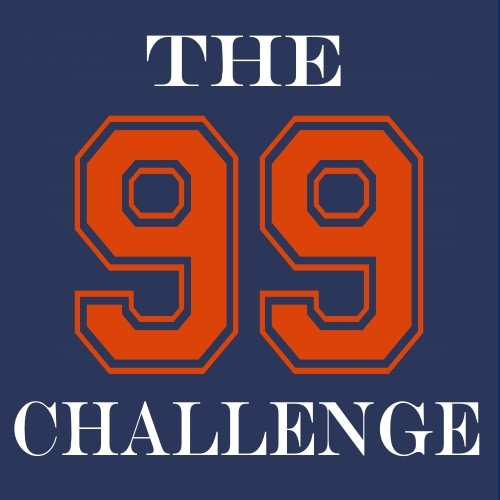 Why "The 99 Challenge"? Because I've seen a number of other challenges in my life that are already called 100 whatever in 100 days and I just wanted to be a bit different.
It also may have something to do with Wayne Gretzky #99 being my favorite hockey player, but I will leave that for another blog post (I may need an idea for a post sometime soon).
Actually the topics will be about digital marketing, building your business online, and what is working and not working in the world of internet marketing.
But one thing you should also understand. This is designed to help you grow your business in 99 days. If you just take 1 smaller task and do it each day, you will be shocked at how the overall picture will look in 99 days.
This challenge is for a number of reasons which I state below… and sprinkled in are the rules I will be following.
The Reason… and Rules
1. I have a digital marketing business and over the last 18 months, I've have not had 10 minutes to market my OWN business. I'm very fortunate in that my work speaks for itself and more than 75% of my business comes through referrals. And I've received so many referrals that I was unable to keep up (working long hours, turning work down, and eventually hiring some help). But that has to stop. How can I ask my clients to do something that I'm not doing (marketing my own business). So here it goes… 99 Blog Posts in 99 Days or "The 99 Challenge".
2. I talk to a lot of my clients about blogging. How important it is. How it can be done to help their business. How it should be done. And now it's time to prove it. I've done it with my previous businesses but now its time to show my clients first hand how effective it can be.
3. I want to show how much it can affect an online business/website in 2015. A lot of news these days is about SEO, Social Media Marketing, and Video Marketing. And all of these are important. But I'm going to show you how just how EFFECTIVE it can be in getting traffic to your site, especially when sprinkled with other types of marketing that I'm going to do along the way (most of them free).
4. I'm not going to blog just to blog. Some of the blog posts will be updates to this crazy challenge. Some will be statistics that will be affected by this challenge (website visitors, bounce rates, email signups, etc). And some will be about how this blog is affecting me personally (time constraints, writers block, etc).
5. With #4 above in mind, the blog posts are not going to just be about blogging. We work with Digital Marketing and that is where we make our money. Therefore, if you're interested in promoting your business, regardless of whether it is a Business to Business or Business to Consumer situation, there will be a TON of information about that during this challenge.
6. Each blog post will be 500 words minimum. Now the minimum number of words I've consulted people to use in the past was 400. However, with content marketing being so important these days, the search engines are starting to give more credit to longer posts. Usually I'm a bit long winded, so 500 words is a walk in the park. Also, I typically will write that length of post in about 20-25 minutes. I wanted something feasible…not impossible. And I think you will find that I will be over that 500 word mark quite a bit.
7. I need to make a change, personally and professionally. This challenge will fulfill both of those goals. Personally, I need to have the WILL POWER to follow through. This is something that I seem to have lost in the last several years. Call it being a father, call it lack of time, call it what you will… these are all excuses. No more! Either I succeed or i fail and I'm really not good with failure.
Professionally I would like to throw out a challenge to other people interested in joining me. I would also love to hear about their successes, challenges, and failures and see if we can't drive each other. The bonus part of this is if you follow through, I promise your business will also see the effects of this.
8. I want YOU to hold me accountable. If you see something missing or are seeing the quality of the content lacking… call me out on it. I will respond. We all can use motivation from time to time. I expect to hear when I'm starting to falter.
9. I know that this is going to be extremely difficult. While a lot of you may say, "that should be easy," I challenge you to join me. It's not always easy to carve out 30 – 60 minutes a day. In fact if you've ever tried an exercise plan, I'm sure you understand that. And there will be plenty of obstacles in my way like:
I have a full time business to run. I have meetings, presentations, speaking engagements, networking events, and I still have to make time to fulfill the work that I promise my clients. And this is more than 40 hours a week. I usually start at 5am and end around 4-5pm, not to mention the time I spend in my office after the rest of the family has gone to bed.
I have 2 small children and a wife who travels for her job quite a bit. Those other parents out there know EXACTLY what I'm talking about, especially those with traveling spouses or single parents.
I have some travel for work coming up where I will be in conferences 10 hours a day for a week.
I have a surgery coming up on my shoulder and I will be relegated to a sling FOR A MONTH. Tell me that isn't' going to affect my progress!
These aren't made as excuses. They are here to show you that it's not going to be easy. I have the same challenges as a lot of people. I'm not some celebrity telling you that you can physically look like them with just hard work at the gym. Because usually what they don't tell you is that:
A. They have 8 hours a day with nothing to do but workout at the gym.
B. They are getting PAID to do it by the movie company that has hired them to be the next action hero and needs them to be in shape
C. They have the money (or its being paid for) to hire that personal trainer on a daily basis.
D. They also have the personal chef who shops and cooks the most optimal meals to go with their workout.
That is obviously not my situation. I have a lot of challenges in my way. So I'm giving myself SOME leeway. Not that I'm going to miss any posts, but that I may have to do more than 1 per day. I said 99 posts in 99 days. If I fall behind… I may have to post a couple a day until I catch up. However, I'm going to try and plan ahead so that doesn't happen.
9. Habit forming. Most experts say it takes 21 days to make a habit (actually it takes a MINIMUM of 21 days and more like 66 days, but I'm not going to get into that here). I'm just like a lot of people out there when I say I'm not always crazy about change. However, I NEED to make a change. Not for any major personal or financial reason, but more because what I've been doing professionally is just not working like it used to. It's working just enough… and I want it to be flourishing. I need to change some habits.
10. Success! Regardless of the other reasons for this, it all comes down to wanting to succeed and wanting my business to succeed. I know how to start an online business and make it successful (I sold my last online business in March of 2013) and I've had great success so far with Mancini Digital. However, I want it to be more.
We don't start businesses with the idea of working in an office by ourselves forever. We start it with big expectations and even bigger dreams. Well, it's time to go after those dreams. It's time to stop staring at the stars and shoot for the moon.
Join Me on "The 99 Challenge"
So if you would like to follow or even better JOIN me on my journey, fill out the email form below. I will send out an email each WEEK with my progress (it's another way to keep me accountable). Also, I thought that if I sent out an email each day it might get to be too much and just make people mad.
Or you can join me on Social Media as I WILL be updating that on a daily basis.
It is now January 7th, 2015. If I do 99 posts in 99 days, that will take me up to April 14th. Unfortunately I've even made some blog posts over the last week (1 earlier today) that I should have held on to for this challenge… but they don't count. It's about starting something new. It's about a new habit. It's about changing that one thing that can help you and your business become more successful.
Hope you join me on "The 99 Challenge"
-Mike Mancini
PS – This blog post came in at 1587 words. I think I need to break them up a bit more 🙂