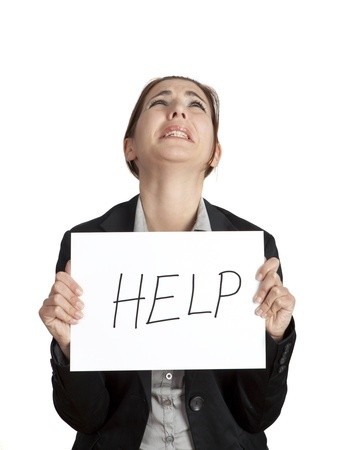 OK… let's not panic just yet. There are a number of factors that could be the reason that your website is not showing up in Google. There are more reasons than we can put in just 1 blog post, but here are a few of them. It also needs to be stated that we're talking about NEW websites. We will touch on older websites later.
How old is your website?
I don't know if your web designer or developer told you this, but it will take some time for your website to show up in the search engines. If they didn't tell you that then it's time for a reality check. Nobody knows exactly how long it will take for a new site to show up (with just an optimized website and no other promotion).
We have built a brand new website with a brand new domain name and had it show up on page 1 in 12 days for some of their keywords. However, that is not the norm. Let me repeat… THAT IS NOT THE NORM!
I received a few referrals from that company and had to seriously set some expectations because all they heard from that business owner was that we got them ranked so fast.
This was for a local service business in a community of about 150,000 people. Typically we see the websites showing up on page 2 or 3 within 4-6 weeks and then moving up slowly. Now, this is all for keywords with an average amount of competition. Not a hyper competitive market.
We also have built sites in very competitive markets and just with SEO (Search Engine Optimization) alone we have seen it take 12-14 months before they were showing ANY signs of decent traffic or business.
I don't even have the numbers for those keyword rankings because we just received a testimonial from the customer telling us he closed about $10,000 in business the previous month specifically referred by the website.
You Need to Be Realistic
No matter who builds your website, when you're talking about organic search rankings, nobody can guarantee how fast you will get to the top of the search engines. If a company tells you that they guarantee that you can get to the top of page 1, you need to run the other way and NEVER look back.
The only people that can guarantee that you will rank at the top of the ORGANIC Google listings is Google themselves. And believe me, they don't do that, or sell that information.
I can't even imagine the non-disclosure agreement that an employee in Google's search group has to sign because I'm sure there are companies that would pay millions of dollars to know the secrets of making it to the top of the search engines.
With a new website, patience has to be a word in your vocabulary. There is nothing you can do that is going to make this happen any faster (with the exception of some black hat tactics that I would highly discourage as your site can get banned).
If you want to get traffic quicker, you need to budget for some paid traffic. Whether it's Pay Per Click advertising, Media Buying, Social Media advertising or any number of other things. That is the only sure fire way to get quick traffic.
Let's put it this way. When we started this challenge of posting 99 blog posts in 99 days, we called it "The 99 Challenge". Let me assure you that is NOT a competitive keyword. It's so NON-competitive that there are literally no stats on that keyword.
It has been 10 days since we posted that blog page. And as of right now, it is coming up in spot 33 of Google. That is page 3 and spot #3 (since there are 10 organic listings per page on Google). So believe me when I say you need to be patient. I've been in this business for 15 years and I'm not worried.
Was Your Site Optimized in the First Place?
Unfortunately, I've seen this before. For a person who has no idea what optimization is, they would have no idea if their site is optimized or not by looking at it. They may have been told that it's ALL IN THE CODE. I hear that all the time.
Yes, there are things that we do to optimize the site that the normal user would never see. But there are also other things that a properly optimized site would show. You just have to know what to look for.
But optimization is build upon basics. These basics have been around for years and if they have not been done, they have not been done. I literally have had clients that have just paid thousands of dollars for a website optimization package (or a yearly contract for website optimization) and the site will never come up because it was literally NEVER optimized.
Maybe There's Not Enough Content
Regardless of what you have heard, search engines LOVE content. They like a site with a lot of written content. If you have a site that has 50 words on the front page and then just a bunch of images (unoptimized), then that can be an issue to.
Sure, you may have a lot of images, but they are just that… pictures. Computers and search engines can't see images like you and I can. They can't distinguish that a picture of a Picasso painting is on an art website. They don't know that a picture of a t-shirt is on an apparel website. They just see code.
But the thing that they can see is the written word. If you have a site about cars, they know you have a website about cars based on your written content. So yes, you can have a lot of pictures, but you also need that written content to optimize and catch traffic as well.
So there are a number of reasons why your website is not showing up on Google and we will continue to look at some others tomorrow. Until then… Keep Promoting!
Sign up today to keep notified of updates about "The 99 Challenge" Sign up by clicking Join Today below…