Hi, I'm Mike Mancini with Mancini Digital.
Attorney Pay Per Click – Case Study
In today's ppc case study, we're going to take a look at an attorney client of ours and he is a divorce attorney in a large metro area.
In the past, he'd been working with some online advertising, specifically, Google Adwords.
Now when he came to us, the problem was that when he figured out how much he was spending, he figured that it was costing him $350 PER LEAD!
Now depending on what industry you're in, sometimes that's worth it. We've worked with technology companies in the past where a product/service that they are selling could cost anywhere from $50,000 to 1.5 million dollars. But the $350 a lead that this attorney was spending was clearly WAY too high.
Now we started working with this client back in 2015. Here are some statistics from January through August of this year (2016).

But the most important thing to take a look at is this graph: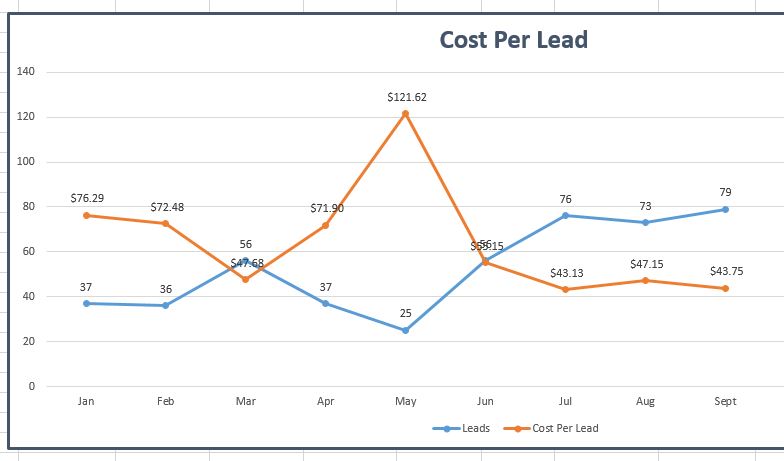 In January, he was up to about 37 leads per month. And he was paying, NOT $350 per lead like before, but we had dropped that down to $76.29 per lead (in January of 2016).
Now that didn't happen overnight, however, we did see a pretty monstrous drop in the first couple of months of the campaign in 2015 because of the fact that when he set up the campaign (before he started working with us), it wasn't set up correctly.
There was a lot of money being wasted. And that's the #1 problem that we see when we start looking at other pay per click accounts. So the solution is that we went in and completely revamped the account.
We set it up correctly. As you see, the cost per lead starts to drop more after January. It dropped in March to $47.68 and the leads jumped to 56.
Now with pay per click advertising, it's going to be a roller coaster. Some months are going to be up and some months that aren't as good. You can see that drop in May.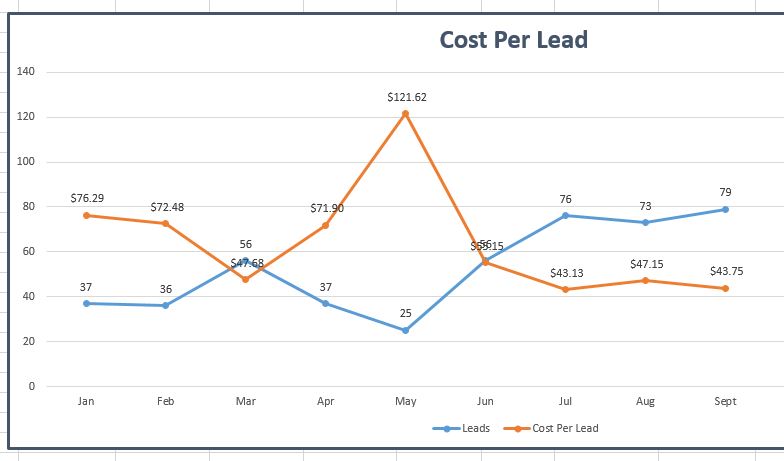 However, during May, we did have the account paused for a bit because our client was taking a vacation and that will obviously affect the results (especially the number of leads).
Even with the paused account, $121.62 per lead was a bit high. There were some switches that we made in the account that didn't work like we wanted them to, so we made the switch back to the original settings and in June, it corrected itself.
Pay Per Click Results
But this is the type of ppc results that we want to see. The leads going up and the cost per lead going down.
This is one of several attorney's that we work with and have been able to show them an improvement, not only in what their ppc advertising is doing for their business, but being able to drive more leads and being able to bring them in at a much smaller cost per lead.
Another thing that we need to point out with this attorney is that he did not start out spending $3500 a month on pay per click ads like he is now.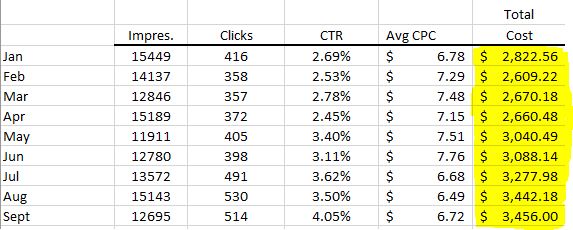 In 2015 he started with us by spending $500/month and over time, he realized the power of what PPC can do for his business as an attorney and how well it was working and he keeps increasing his ad spend.
So, if you're an attorney or if you know of any attorneys that could possibly use our services, we'd appreciate you passing this along. Thanks for watching our Pay Per Click – Attorney Case Study.
Other Pay Per Click Case Studies We Have Published:
PPC Case Study – Pest Control Business
PPC Case Study – Attorney / Lawyer
PPC Case Study – Auto Repair